Den Ort eines 'add_to_cart ' Events in BigQuery ermitteln.
Für Shopbetreiber ist es interessant, wo der Nutzer seine Produkte in den Warenkorb fügt. Passiert dies auf der Suchergebnisseite, in einer Kategorie oder eben doch klassisch im Produktdetail?
Mit guten Google Analytics 4 (GA4) Daten und BigQuery Anbindung ist dies einfach zu ermitteln.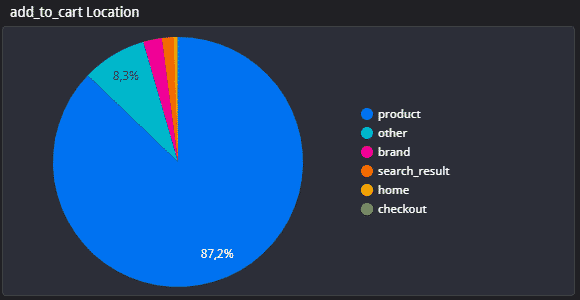 Das Event 'add_to_cart' muss in GA4 erfasst werden.
Dem Event ist ein 'page_type' zugeordnet (oder dieser ist anders, z.B. über die URL erkennbar).
Die GA4 Daten werden zu BigQuery gestreamt.
Das Vorgehen ist einfach:
GA4 Daten abfragen
mit UNNEST(event_params ) die Eventwerte extrahieren
auf das 'add_toCart' Event reduzieren.
Das Resultat ist eine 2-spaltige Tabelle mit event_date und add_to_cart_location mit den Werten (search_result, product, category …)
Daten in Google Datastudio darstellen.
Den vorgeschriebenen Code verändern wir, sodass in Google Datastudio event_date als Datumswahl genutzt werden kann.
Entscheiden dabei ist die Zeile:
    AND _table_suffix between @DS_START_DATE and @DS_END_DATE
Welches den Datumsbereich eingrenzt.

Das Ergebnis der Abfrage kann dann im Google Datastudio mit einem Tortendiagramm dargestellt werden.