More flexibility,
more orders,
less costs.
Shopware 6 Agency for modern online retail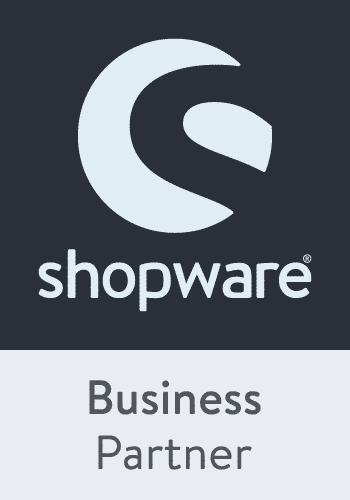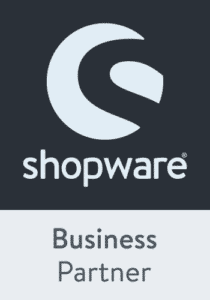 Shopware 6 Agency Services
Shopware 6 agency with focus on B2C shops. Our customers are medium-sized online retailers with high demands on e-commerce systems.
Our claim to e-commerce systems
Rollback-enabled software version management
Working with staging environment
Short development times
No noticeable downtime
For shop operators, a high level of resilience is just as important as lean development processes, so that innovations quickly appear online. Only then can sales be achieved.
As an agency for Shopware 6, working with version management and a test environment is standard for us. In this way, you can intensively test work results and, after release, take them into the live environment.
When developing modules, it is a matter close to our hearts to work in the intended system standard and thus achieve a high level of update security.
A selection of satisfied customers



Let's start.
Act now!
Contact me for a free first call.
Who is Shopware 6 for?
Shopware 6 is for everyone!
Shopware AG has broadly positioned the product Shopware 6. Shopware 6 offers everyone a tailor-made solution:
Shopware Cloud offers the low-budget start-up, which wants to make a "fast start", an optimal platform to start without annoying technical overhead.
Shopware 6 offers established online retailers a stable, and easily scalable and extensible way to map even more complex business models.
Even larger companies with the need for multi-tenant solution or more complex B2B business models are served satisfactorily with the Shopware 6 Enterprise Edition.
Shopware Cloud
Shopware CE
Shopware PE
Shopware EE
Target audience
E-Commerce Beginners / Pop-Up Shops
Established online retailers
Established online retailers with high standards
Complex companies
Features
Drag & Drop CMS Editor for categories, landing pages, product pages

Plugin support for all major third-party systems

Highly flexible shop system

International Core Functionality

Shopware 6 CE Features

Customizable products
Extended sales channels (Google Shopping, Facebook)
Advanced CMS Elements

Shopware 6 PE Features

Multi-tenant capability
Manufacturer Developer Support
Customisable
B2B Suite for complex business models
Enterprise Search

Shopware Support
Manufacturer User Support
Support in the forum
Manufacturer Support for Users

3 Days Response Time

Manufacturer – Developer Support

Short response time

Phone support

Initial License Cost*
*As of 1.7.2020
Revenue Share + Monthly Costs
0 €
€2495
€40,000
The strategic benefits of Shopware 6
E-Commerce Software made in Germany
Shopware AG is a 100% owner-managed family business from Münsterland. For all holders of a support license, the company has an open ear at all times for problems related to shopware. There is a general difference to other shop software solutions such as Magento.
Design from a customer perspective
Shopware 6 is unique in the easy adaptability of all relevant store pages. Most parts of the storefront can be customized by the trained Shopware user. Without developers, with simple basic knowledge of online publishing.
State-of-the-art standard technology
Shopware 6 was conceptually built entirely on standard technology. It uses Vue.js (Javascript Framework), Symfony (PHP Framework), GitHub (Open Source Version Version Management) and Bootstrap. These solutions are widely used framework systems for which sufficient developers are available.
Let's start.
Act now!
Contact me for a free first call.
Worlds
Experience worlds are the successor to the shopping worlds already popular in Shopware 5. Here you can customize landing pages, content pages, category pages and soon products. This gives the user even more freedom and access to all important pages of the shop. This saves developers hours and dramatically reduces go-live time for changes.
Shopware 6 Business Rules
With the Shopware 6 Rule Manager, phrases such as: "We want to make an item free of shipping and need the developer" are part of the past.
Shopware 6 offers a business rule engine that knows no boundaries in its diversity and is looking for its same in e-commerce.
API-First Approach
To simplify connections, Shopware 6 follows the API-First approach. This makes the system very flexible in working with other third-party systems.
Data can be transferred in real time between the different systems. This makes Shopware faster and increases the performance of your e-commerce system.
PWA frontend available
For a mobile experience, Shopware 6 offers a PWA application built with vue.js. In the future, Shopware 6 customers will have the opportunity to offer their users an optimal, mobile shopping experience.
Internationalization
Shopware offers languages and currencies firmly integrated in the sales channel in the latest version. This allows you to serve all the languages that your company speaks in customer communication on only one domain.
Large community
Due to the standard technology used and the movements in the e-commerce system market, Shopware is a suitable candidate to become THE e-commerce system of the future. With over 1000 ready-made plugins, Shopware already offers very flexible solutions for online shop operators.
Let's start.
Act now!
Contact me for a free first call.